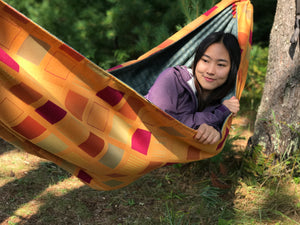 Summertime (new Larger size for 2022)
Sale price Price $ 195.00 Regular price $ 195.00
Amazing Fabrics Make Very Special Hammocks.
NEW. Larger size for 2022 makes these great hammocks both longer and wider than ever! 
15 Years of the Finest Hammocks.
Still Handcrafted in Rural, Northern Wisconsin.
Choose from Soothing or Eye-Popping Fabric Combinations.
Only the Highest Quality Materials.
Finished Bed Size is Approximately 9'x 5.5'
Multiple Anchor Points for Reach and Adjustability. 
Ideal For Use Indoors Or Out.
Weather-Resistant Rope And Thread.
Readily Fits in Spaces from 8 to 12 feet.
Extend Your Hammock's Reach With Hanging Accessories.
Made In USA.