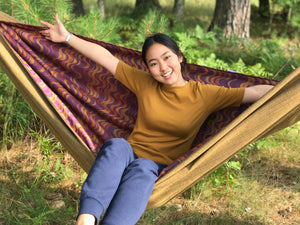 #1080 Happiness (New larrger size for 2022)
Sale price Price $ 195.00 Regular price $ 195.00
Amazing Fabrics Make Very Special Hammocks.
15 Years of the Finest Hammocks.
Still Handcrafted in Rural, Northern Wisconsin.
Choose from Soothing or Eye-Popping Fabric Combinations.
Only the Highest Quality Materials.
Finished Bed Size is Approximately 8.5' x 5.5.'
Multiple Anchor Points for Reach and Adjustability. 
Ideal For Use Indoors Or Out.
Weather-Resistant Rope And Thread.
Readily Fits in Spaces from 8 to 12 feet.
Extend Your Hammock's Reach With Hanging Accessories.
Made In USA.