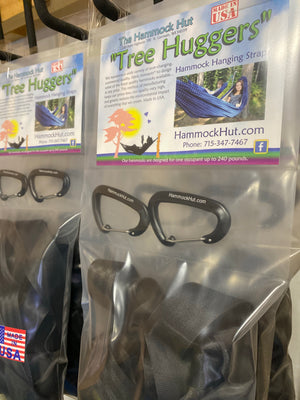 "All New" Hammock Tree Straps and Carabiners
Sale price Price $ 35.00 Regular price $ 35.00
All New, improved design...longer, stronger, and now includes high-quality wire-gate caribiners.
"Tree Huggers" will allow you to setup your hammock in a number of locations in a matter of minutes. We include everything that you will need to provide a perfect, portable solution for hanging your hammock between two trees up to 25 feet apart (depending upon the diameter of the trees). The following simple steps will have you up and hanging in just a couple of minutes. 
"Tree Huggers" are constructed from over 36 feet of high-quality nylon webbing with a break strength of nearly 4,000 pounds. They come tied into a convenient series of loops that allow for quick setup and adjustment. We also include a pair of sturdy S-hooks. The complete package is designed to hold a hammock and its occupants weighing up to 400 pounds.
Use one strap per tree. Simply wrap the strap around the tree and thread it through the loop on either end. This flat webbing is much easier on the trees than rope provided that you ensure that it is placed flat against the tree as shown. Secure each of the two straps at about eye-level for hanging a hammock between two trees that are approximately 10 feet apart. Distances that are farther apart will require higher placement.
Connect the "Tree Hugger" to the hammock using the include S-hook. The "Tree Hugger" has 4 separate anchor points. Use the anchor point that seems appropriate and adjust the hammocks height by selecting one of the 4 smaller anchor points at the end of the hammock.
A properly setup hammock will look somewhat like a banana when it is unoccupied. For optimal comfort, avoid pulling it too tight or too straight across. In general, the tighter it is pulled, the higher the sides come up around you. We like to have it somewhat tight for sleeping and a bit more loose for reading and relaxing. We suggest that you experiment a little to find your favorite settings.
That's all there is to it. Please keep in mind that it is important to find a suitable spot that is free of roots, rocks and other debris that could pose a safety hazard. While light swaying is appropriate, heavy swinging is absolutely not recommended under any circumstances and certainly poses inherent safety risks. Children should be supervised at all times. Enjoy your hammock. Take it with you to the park and the campsite...it will change you. :)